 DigitalWell 360
Streamline business communications with DigitalWell's flexible, reliable and scalable system.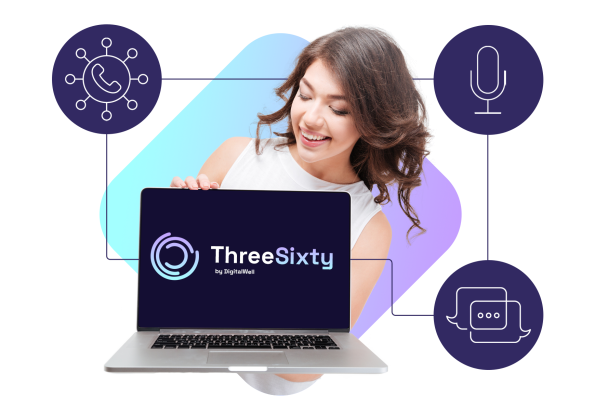 DigitalWell 360 is a robust Open Standards Turnkey Telephony Platform & Unified Comms system for today's business.
Flexible, reliable, and scalable communication system, DigitalWell 360 (DW360) is used by SMEs, enterprises, and governments worldwide, utilising the most advanced and latest technologies within the solution.
With DigitalWell 360, you can transform your business communications capabilities. Our bespoke Desktop & Mobile Unified Communications App is designed to provide business and contact centre users with an array of powerful features and benefits to suit any size organisation within budget.
Benefits & Features
Meetings
Set up meetings seamlessly, without the hassle of switching applications, with Communicator (our unified communications platform) meeting. With access to all of your Communicator contacts, you can start collaborating with a single click.
SMS & MMS
DigitalWell 360 empowers end users with SMS and MMS capabilities. Deliver business communications to team members and clients in seconds- simply, securely and with precision.
Recording
DigitalWell 360 interface has an integrated call recording player, allowing authorised users to listen and navigate through recordings directly from their browser.
Comprehensive Dashboard
The dashboard provides a comprehensive communication overview of the DigitalWell 360 solution in real time. Customize the information viewed depending on your needs.
CRM Integration
Incorporate all the features and capabilities of DigitalWell 360 telephony system inside your CRM or browser seamlessly.
Archiving
Keep recordings, voicemails stored in a remote, secure location with the Archiving feature. Configured to run automatically at certain specified times, even at hourly intervals.
DigitalWell's Unified Comms Products
DigitalWell's roots are in unified comms solutions – in all scenarios and setups, we've seen what works for seamless internal and external communications, and work closely with our customers to achieve that.
Get in touch