5 Business Efficiencies Gained by Using Voice in MS Teams
MS Teams has some great collaboration features for businesses, but by integrating its Voice capabilities, there are even more business benefits to be gained.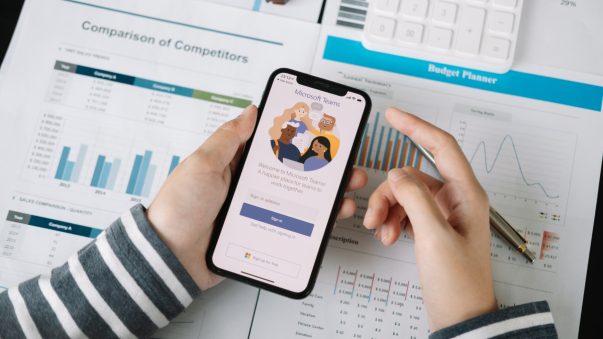 More businesses with Microsoft 365 are adding MS Teams functionality, but while these organisations are seeing the benefits of the chat and conferencing functions, not everyone fully understands the efficiencies that can be gained through enabling MS Teams for their external telephony needs too.
Here we look at five of those organisational advantages:
1. Better voice solutions
MS Teams Calling has PBX functionalities that can seamlessly and quickly integrate, replacing existing, disparate systems that are expensive, limited or restrictive. Useful features include:
Call routing.
Cloud calling features.
SIP trunk sharing and linking.
Managed telephony extensions.
Intercom and paging features.
Enhanced communications security.
Basic contact centre capabilities.
Messaging features.
Extra features, such as call recording, logs, call back and dialler can be accessed by buying add-ons, or, by integrating with DigitalWell 360 (DW360), organisations can access a wide range of customisable calling functionality, along with powerful call centre capabilities. All these features can be accessed by any securely connected device.
2. Improved productivity
Having a single Unified Communications platform with fully featured voice calling means users get more done, quickly. As well as being much easier to manage, voice-enabled MS Teams can be easily integrated with hundreds of other applications to add further functionality, benefits and productivity gains.
56% of app users report that having to switch between apps makes it more difficult to get essential work done. By integrating MS Teams Voice, you can make domestic and international calls without ever leaving the app so workers have more time to focus on revenue-generating activities.
Azure call technology also ensures high quality data transmission. Audio and recordings are clear and uninterrupted, resulting in less error and fewer follow-ups.
3. Lower costs
A Unified Communications platform such as MS Teams with voice capability is cheaper to maintain, and easier to manage, than using several independent solutions. The costs of international calls can be significantly reduced too especially when using "direct routing" whereby you connect your own telephone network into MS Teams. This can be achieved by sourcing a SIP trunk from a carrier or using a managed service provider.
Eliminating existing calling solutions, hardware and maintenance can all add up to further savings. This is especially important if you're having to manage a diverse range of communication equipment and infrastructure.
A Forrester report cites that, using MS Teams with Voice, companies reported reductions in the cost of web conferencing, long-distance and mobile phone calls, along with on-premises telephony. Over three years, the total savings for the composite was $648,727.
4. Enhanced security
Today, it's more vital than ever to ensure all your systems are protected from cyberthreats, both internally and externally. With Microsoft, security is something that is always front of mind when developing their products. MS Teams is compliant with a range of security standards including ISO27001, ISO27018 and HIPAA Business. As well as two-factor authentication and single sign-on, Azure Active Directory can be used to encrypt all data in transit and at rest.
While Azure's security protocols within MS Teams are exceptionally good, they won't account for all the variables that may be at play within your existing infrastructure. At DigitalWell, security is at the core of everything we do. When integrating MS Teams for Voice, we can advise on how to implement the best solution for the unique needs of your business to optimise and futureproof your own security infrastructure.
5. Flexibility and scalability
As the hybrid working model becomes established in 2023 and beyond, Microsoft is already looking to the next new workplace trends. Partnerships with Jabra, Neat, Poly and Yealink offer new tools for hybrid meetings, such as intelligent camera views that utilise AI within Teams Rooms. Cameo is another new feature which integrates a Teams camera feed into a PowerPoint presentation.
This demonstrates that as the workplace environment evolve so too will MS Teams to give businesses the flexibility to adapt quickly – and scale as needed.
Integrate calling functionality into MS Teams with DigitalWell
With Voice-enabled MS Teams, you're future-proofing your business in the new hybrid work environment. Your team can work where and when they want, accessing every app that your business needs across a Unified Communications platform. Adding MS Teams Voice and Calling features to its functionality unlocks its true potential, making it a one-stop productivity hub that will keep your organisation agile and competitive now and in the future.
While Microsoft can't directly enable telephony capabilities, Microsoft Gold partners like DigitalWell can. As an end-to-end, managed service provider, DigitalWell can migrate your infrastructure so your business can benefit from a Unified Communications platform that provides a reliable, secure and consistent user experience across voice, video, data and mobile – without quality or network related issues. Furthermore, as a fully licensed telco, we can wider advice on the best solution for all your telephony needs.