How AI is Transforming the Contact Centre and CX
Artificial Intelligence (AI) is making all the headlines in 2023. Analysts now forecast that Contact Centre AI will drive new efficiencies in the CX operations of all types of organisations.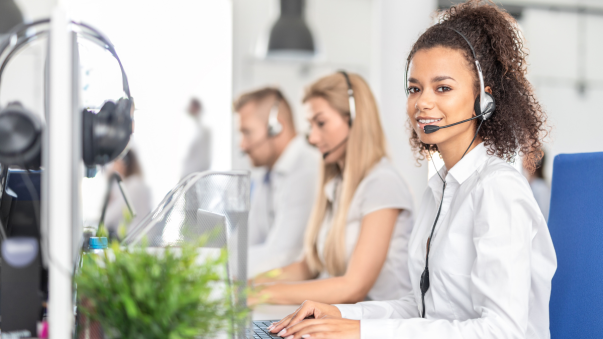 New technologies are revolutionising the contact centre. It's no longer a simple case of an interaction between and caller and a live agent. The traditional call centre has advanced with WFM and hybrid work models which have now become the norm throughout the industry.
As a result, cloud-based CCaaS has become the ideal deployment model for contact centres, allowing agents to work from anywhere – with full functionality. This successful digital transformation sparked business leaders to ask – if technology could to that, what else could it do? 
Here are some of the emerging trends that are gaining prominence as AI technology continues to advance, empowering organisations to enhance CX performance across contact centres. 
1. AI-powered agent assistance
AI assistants and bots in the contact centre will boost productivity by as much as 25% by 2040. It can empower employees with tools that intelligently match customers to the agent with the best knowledge to resolve the issue. The same solutions can instantly deliver contextual customer information from integrated tools in the contact centre, so employees can access information immediately. In DigitalWell's offering this is known as Agent Assist – just one of many new AI-powered features built into Genesys.  
2. Personalisation and data-driven decisions
72% of Gen Z customers say that personalised experiences have influenced them to make a purchase. By delivering predictive engagement insights to employees, contact centre AI can create highly personalised experiences for customers. These solutions can even track sentiment in human voices, and assess intention, to determine when a conversation is going poorly and offer advice on steering the interaction in the right direction.   
AI-powered augmented analytics platforms also empower managers and analysts to make data-driven decisions efficiently. These tools leverage AI algorithms to automate data preparation, analysis, and visualisation, enabling faster insights and actionable recommendations to enhance CX strategies and operational performance. 
3. Automation in the contact centre
Conversational AI will automate six times more agent interactions that it does today by 2026. When it comes to automation and introducing new efficiencies, AI has the ability record huge amounts of information quickly, reducing the manual work an employee needs to do. While supervisors can't listen to every call to grade agents to gain actionable insights, AI can. AI-powered virtual agents and self-service tools are becoming more sophisticated at answering customer questions too. This not only gives customers more options for how they get service, but it also reduces the amount of work human staff needs to do.  
4. Sentiment analysis and emotional AI
AI-powered sentiment analysis tools enable organisations to gauge customer emotions and sentiment during interactions. By analysing tone, sentiment, and context, contact centres can better understand customer satisfaction levels, identify areas of improvement, and respond with empathy and personalisation, leading to enhanced CX and brand loyalty. 
Implementing sentiment analysis and emotional AI techniques requires robust data collection, advanced NLP algorithms, and careful integration with existing CX systems. However, the benefits of gaining a deeper understanding of customer sentiments and emotions can significantly contribute to creating exceptional customer experiences and driving business success. 
5. AI-enhanced quality assurance
AI-powered quality assurance tools can automatically monitor and analyse customer interactions, ensuring adherence to predefined service standards. By identifying training needs, performance gaps, and compliance issues, contact centres can continuously improve agent performance, enhance service quality, and ensure regulatory compliance.  
6. Gamification
Employers cite a 48% engagement increase with a gamified work experience and 90% of employees say it makes them more productive. 
Staff retention is one of the biggest issues facing contact centres is a high rate of staff churn. Employee Experience (EX) is a key part of CCaaS and gamification has been proven to improve the lives of agents. The Workplace Engagement Manager (WEM) component in DigitalWell's solution is reinventing the employee experience, actively coaching and training agents and boosting performance. When workers are engaged and feel valued, employee churn falls, and productivity rises.  
As seen in DigitalWell's recent report on business communication trends, AI is revolutionising CX and the potential of AI in the contact centre is huge. Already 63% of companies that have adopted AI say it has boosted revenue in areas where it is used. At DigitalWell, our solutions come integrated with all the AI functionality you need to increase performance in every type of contact centre. With it, contact centres can increase efficiencies by automating repetitive manual tasks, assess intention to personalise the customer journey and offer agents insights to make informed decisions on how to progress issues.  
By equipping agents with clearer indicators, you can target customers and optimise engagement in real-time, while AI-driven data analytics and reports can help you understand and react to customer needs better. 
To find out how to put AI to work in your contact centre with DigitalWell's CX solutions, talk to one of our experts.