Best Practices for Successful CCaaS Migration and Implementation
CCaaS migration can bring great advantages, but there are factors to take into consideration for the best outcomes when moving your contact centre to the cloud.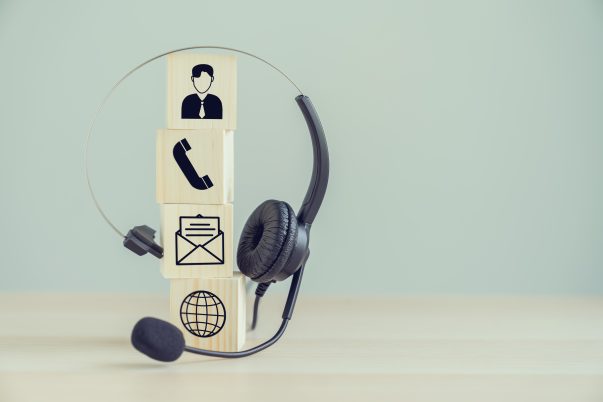 Customer service has always been a critical aspect of any business operation, helping companies build brand reputation and differentiate their offering in the marketplace. With the rise of cloud-based services and increased demand for personalised customer experiences, more organisations are seeing the advantages of moving their contact centre operations to the cloud. CCaaS (Contact Centre as a Service) combines contact centre hosting with cloud-based infrastructure and capabilities that streamline customer journeys and make it easier for organisations to tailor the customer experience. 
With studies showing that moving contact centre operations to the cloud can increase satisfaction scores from 59% to 85%, CCaaS is causing companies to rethink their contact centre strategies. However, switching from a traditional contact centre model to the cloud can be an unnerving experience for contact centre managers. Undertaking a CCaaS migration successfully with minimum operational disruption and maximum business benefits means sound planning and taking a number of factors into account: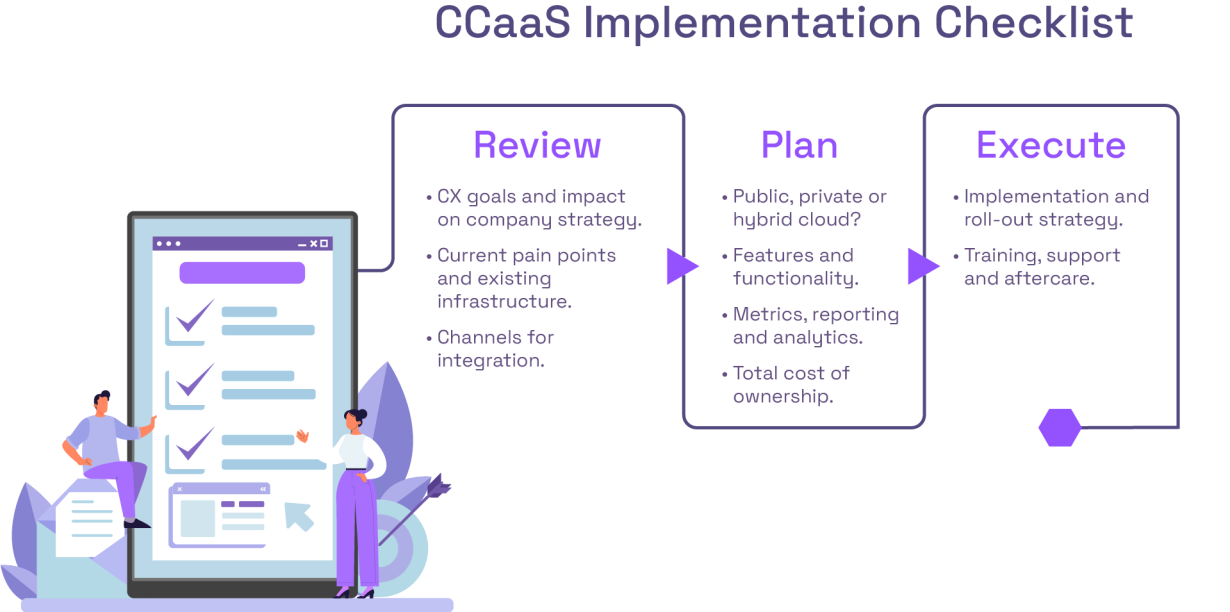 Review and define organisational requirements
Firstly, it's important to identify your business goals and needs in terms of what you do and what you want to achieve with a CCaaS migration. A good outcome is the result of good planning. Look at the existing infrastructure and pain points in your current customer services operations, as well as organisational requirements when it comes to scalability, functionality, app integration, analytics and reporting.  
CCaaS solutions can be deployed in different ways, such as public cloud, private cloud or hybrid – each with its own disadvantages and advantages – understand the differences and choose the best one for your needs: 
Public cloud – Hosted by third-party providers so you don't need to invest in hardware or software infrastructure. These are typically very scalable and easily deployed but you may have less control over configuration. 
Private cloud – Hosted in your own data centre, or dedicated environment, private cloud offers more control over configuration. At the same time, greater investment is needed for the initial infrastructure.  
Hybrid cloud – These combine the benefits of public and private cloud environments, so you can use private cloud for certain functions and public cloud for others. While this offers flexibility, it can be more complex to manage.  
Features and functionality
Understandably, contact centre managers have concerns about functionality when moving to the cloud. For instance, when changing platforms, will current reporting frameworks still perform as expected? Will operational metrics such as agent efficiency and KPIs continue to be measured? Will the technology integrate with existing non-cloud back-end or third-party systems? 
The answer to all these questions is 'yes' – with the right provider, of course. 
A good solutions provider with a proven track record of implementing customised CCaaS infrastructure will take client needs into consideration at the outset and advise on the optimal ways to migrate aspects of functionality that are critical to current operational performance. 
Security and compliance
Security is another vital consideration, especially if you're dealing with sensitive customer information, such as financial transactions. Data encryption, access controls, cybersecurity measures and regular updates will all play a role in securing your business interests. 
Alongside this, compliance is another important consideration. If you operate within a regulated industry such as finance or healthcare, your CCaaS migration will need to be compliant with industry regulations such as PCI DSS, HIPAA and GDPR.  
Customer support and training
Ease of use will be critical for your agents and your managers to get the most from a CCaaS migration. Interfaces should be intuitive, user-friendly and equipped with real-time reporting. Users will need basic training to get most from the platform, so ensure that your provider is able to offer exactly what you need in terms of training and ongoing support.  
Pricing models
It's important to consider the best pricing model for your organisational needs. Typically, for CCaaS, there are three pricing models offered by providers: 
Per seat or per user – Pricing can be applied per named user or concurrent user (the same licence can be used by a number of users – as long as only one of them is logged in at any given moment). 
Usage-based – Pricing is applied based on how the length of time someone is logged in to the software, regardless of number of users. Preferential terms may be available if the customer commits to a minimum level of consumption. 
Per event – CCaaS pricing can also be influenced by the number of 'events'. Within Genesys, for example, there is the option to pay on a 'per-event' basis, dependent on the number of interactions per month. Typically, this is an add-on supplementing per-user licencing.  
Both models have pros and cons, depending on business needs in terms of number of users, shift patterns, demand cyclicality, etc… 
CCaaS migration, implementation and aftercare
Once a preferred provider and solution has been chosen, there should be a comprehensive plan developed for the CCaaS migration. This is why it's important to choose a provider that has track record in successfully delivering CCaaS solutions for all types of business needs, including hardware/software requirements, integration with existing systems, data migration, customisation, user training and testing. An experienced provider should be able to provide a thorough plan for implementation, ensuring things go smoothly with minimal disruption to business activities and avoiding pitfalls along the way.  
Implementation doesn't end when your CCaaS goes live. To get the most from your investment, you need to monitor performance and fine-tune where needed. KPIs such as call volume, average handle time and customer satisfaction rates will all help when it comes to seeing where things are working and what you need to do to improve performance in other areas. Furthermore, every CCaaS solution will need updates for security, performance improvements or new functionality.  
This is where a good CCaaS provider will really help you get the most from your solution in terms of helping with new features, maintenance and timely, effective support, when you need it, as well as expert advice on the latest trends in CX and contact centre technology. 
Deploying a CCaaS solution can be a game-changer for those looking to transform their contact centre and deliver a customer experience that can differentiate the business in its marketplace. However, like every new infrastructure upgrade, a CCaaS migration requires careful planning, implementation and ongoing maintenance and review.  
At DigitalWell, a history of planning and implementing CCaaS migrations and upgrades has given us an in-depth understanding of the factors affecting operational processes, organisational structure and culture. With a full range of customisable contact centre services, including Genesys, Avaya and DigitalWell360, talk to a representative to find the solution that best meets the needs of your business.