IT Strategy for Cloud Services in 2022
DigitalWell's CTO discusses the finer points of Managed Cloud services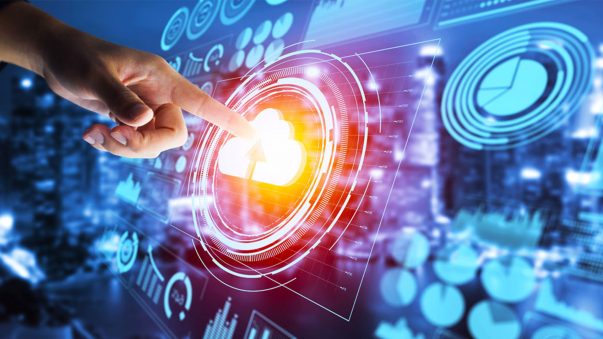 DigitalWell's Chief Technology Officer discusses the finer points of Managed Cloud services, the impact of Covid in its adoption and what is next big thing in cloud services.
What is Cloud?
Simply, it is the practice of using a network of remote servers hosted on the internet to store, manage, and process data instead of on a local server (on-premise) or a personal computer.
First, you need to determine the type of cloud deployment, or cloud computing architecture, that your cloud services will be implemented on. There are several different models, types, and services to deploy resources in the cloud: public, private hybrid and multicloud.
Public Cloud
An IT model where on-demand computing services and infrastructure are managed by a third-party provider and shared with multiple organisations using the public Internet such as Microsoft Azure or AWS. Public cloud makes computing resources available to anyone for purchase. Multiple users typically share the use of a public cloud.
Private Cloud
Also known as an internal cloud or corporate cloud) is a cloud computing environment in which all hardware and software resources are dedicated exclusively to, and accessible only by, a single customer. Private cloud combines many of the benefits of cloud computing — including elasticity, scalability, and ease of service delivery — with the access control, security, and resource customization of on-premises infrastructure. It is an easier way to ensure regulatory compliance with confidential documents, intellectual property, personally identifiable information (PII), medical records, financial data, or other sensitive data.
Hybrid Cloud
Mixing public cloud services, private cloud services and on-premises infrastructure, this model allows orchestration between platforms. For example, connection from an on-premises datacentre to a public cloud is a hybrid cloud model. Hybrid clouds always include a private cloud and are typically managed as one entity.
MultiCloud
Multicloud is the use of multiple cloud computing and storage services in a single mixed architecture. This also refers to the distribution of cloud assets, software, applications, etc. across several cloud-hosting environments. Multiclouds always include more than one public cloud service, which often perform different functions. Multi-clouds do not have to include a private cloud component, but they can, in which case they can be both multi-cloud and hybrid cloud.
How has key stakeholders' perception of Cloud Services changed?
In the recent past, many businesses were slow to adapt to cloud and indeed risk adverse. Cloud migration was perceived as something that only larger corporations could actually achieve.
Now, cloud computing is no longer a catchphrase but is an integral part of any IT strategy – for all businesses, across all industries. Over the last decade, companies have been slowly moving their activities to the cloud.
But in 2020, six out of 10 businesses moved their work to the cloud. This trend is likely to continue in the coming years, as 46% of companies reported better financials on costs. The three sectors that plan to spend the most on cloud computing services are manufacturing ($19.7 billion), professional services ($18.1 billion), and banking ($16.7 billion) according to IDC.
Interesting to note that now many cloud products and platforms have become verbs in the last 19 months!
How do you counter the arguments against cloud adoption?
Seventy-five percent of organisations have adopted the cloud in some fashion. It's no longer arguments against but why have you not?
Choosing the right cloud platform vendor is crucial to an organisation's success. Here are the top 4 reasons that organisations choose DigitalWell's Managed Cloud Solutions:
1. Security
Managed Hosting with DigitalWell is built on secure foundations a technology stack from leading vendors: IBM, Cisco UCS, Dell EMC VMware, connected to our Cisco Backbone, and all protected by magic quadrant leading Palo Alto products. This means you can rest assured that your data and applications are completely secure.
Managed Hosting meets all the requirements set out in ISO27001: 2013 giving you the added guarantee that your data is secure at all times in our private cloud.
2. Support
We know that supporting your own IT infrastructures can be time-consuming and expensive. That's why the SLAs that govern our managed hosting give you that added reassurance in the form of expert technical support from our professional technicians.
3. Scale
We build a cloud environment specifically for your business and your needs, with high availability, consistent performance and enhanced security. This highly customised solution is future-proofed and can be seamlessly scaled to meet your changing requirements.
4. Resilience
Our Managed Hosting solution sits at the centre of our nationwide network. Because we own and operate the network, we can guarantee high availability for business continuity and a single end-to-end SLA.
Over time, business requirements change which mean a company's cloud strategy needs to adapt. This may result in transitioning your private cloud to be a part of a hybrid cloud or adapting to new application or workload requirements.
This is where DigitalWell can add value through our extensive service range – from configuration management to security. Our know-how takes away the stress of managing IT infrastructure and assets, which reduces costs and allows resources to be focus more on business.
How would you explain the technological and business benefits to a CIO and COO?
Along with functionality and product capabilities, cloud offers security. Security in seamless upgrading and scalability. Security in the flexibility to deliver projects. Security that your data is protected.
What does the future of cloud services look like?
The pandemic has changed the idea of "work" – from collaboration to remote to hybrid working. This has impacted the IT strategy of every organisation. The adoption of cloud has seen risk adverse businesses like finance switch from an on-premises model to cloud first approach. It's an evolution into a new digital age of innovation. New wireless communications advances, such as 5G R16 and R17, will push cloud adoption to a new level of broader, deeper usage.
Infrastructure as a Services is gaining market traction as it allows IT departments to migrate physical services to the cloud. By renting computing and storage capacity from a cloud vendor they do not have to buy, install, and run servers anymore – or care about datacentre buildings and electrical installations. Important more than ever as recent reports stated that Eirgrid in Ireland notified data centre operators that they would not be providing connections to new Dublin-area facilities until at least 2028 due to compression on the system.
And then there is Platform as a Service, which will be a real game changer as it enables developers to build revolutionary new features, services, and products for their customers. PaaS works well for large or small businesses because its cost effective, allowing smaller organisations access to state-of-the-art resources without the cost implication. PaaS provides a path for accelerating software development which will truly be the next era in digital transformation.
Given that cloud has become a key tool in solving companies sudden need to become distributed and hybrid, I.T. buyers are now looking to purchase non server processing resources in the same secure scale up / scale down manor across the technology stack, from phone systems to full blown contact centres, from standard DIA to hybrid MPLS/SDWAN solutions, from AV / MDM to solution integrated SOC & SEIM.
Learn More