CX Evolution: The Impact of CCaaS in the Contact Centre
Contact Centre as a Service (CCaaS) is transforming the way managers strategise when it comes to CX.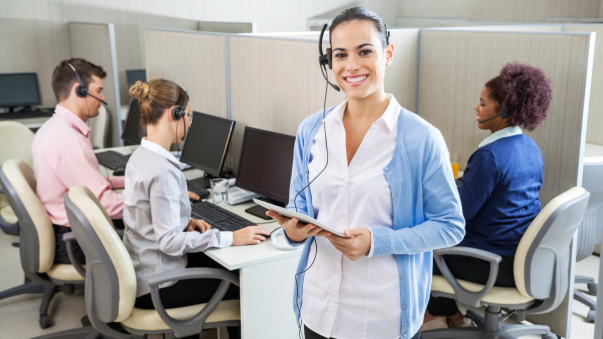 Contact centre technology has come a long way since the emergence of the "call centre" during the 1970s. Driven by new technology and customer expectations, contact centres and CX were transformed during the Covid-19 pandemic, becoming cloud-based operations with distributed workforces. Like so many other SaaS (Software-as-a-Service) platforms, CCaaS (Contact Centre as a Service) was born. 
The growth of omnichannel
From rows of agents handling phone calls, multichannel support created a dramatic shift in the contact centre landscape. Contact centres could now offer email support and self-service portals, giving customers more flexibility and convenience. Managing and integrating these channels, however, required an additional technological solution.  
That happened with the move to omnichannel platforms, increasingly cloud-based as CCaaS (Contact Centre as a Service). Contact centres evolved to provide seamless integration across voice, digital, Interactive Voice Response (IVR) and with customer relationship management (CRM) platforms.  
While, with the multichannel approach, each channel is managed individually, with omnichannel, all customer touchpoints are streamlined under a single platform with consistency across messaging and branding. The result: a seamless and uninterrupted experience throughout the customer journey.  
There are approximately 18 channel offerings within the contact centre now, ranging from email and in-person to IoT and AI-powered virtual assistants. And organisations are increasingly using more of these channels. Bridging data channels gives customers transparency across all touchpoints, helps with personalisation and strengthens customer relationships, leading to increased customer loyalty and trust. 
The future for CCaaS
The next logical stage will be the integration of CX with other business functions, such as marketing, sales and product development, giving agents a full overview of the customer journey to improve issue resolutions, upselling and cross-selling. Many CCaaS vendors are already looking at the concept of "XaaS" or Everything as a Service. These platforms allow companies to integrate not just their UC tools, but also other SaaS solutions, such as ERP technology, with their contact centre environments. 
Other reasons for the accelerating uptake of CCaaS include the proliferation of artificial Intelligence (AI) and the need to introduce efficiencies through automation. AI-powered chatbots and virtual agents are becoming ever more sophisticated and able to provide solutions to increasingly complex customer enquiries, freeing up human agents for business-critical work. Natural Language Processing (NLP) and sentiment analysis is allowing these artificial agents to respond to customer emotion, further improving the customer experience. AI bots can even scan for security and fraud risk, informing employees when potential issues arise.  
We're also seeing greater personalisation as data analytics provides valuable insights into customer behaviours, identifying needs and addressing those needs by delivering a highly personalised service.  
Evolving with your contact centre needs
CX has become a key differentiator. 70% of customers say that a company is only as good as the service it offers and 74% buy based on experience alone. CCaaS solutions, such as Genesys, make all of this happen through a suite of services focussed on improving the Customer Experience (CX), the Employee Experience (EX) and the overall Digital Experience (DX) – especially when the solution has been customised to serve the unique needs of the organisation. Which is where the experience and technical know-how of the team at DigitalWell can make all the difference. 
The contact centre has become an integral and vital part of business operations. It's where sales happen, and customer loyalty is created. And it's never been more important that organisations have the technology in place to optimise every part of the customer journey and deliver service that is optimised for business success.  
To discover how to create a CX solution that meets your unique needs now and as they evolve into the future, talk to a DigitalWell expert. You can also find out how we translated that expertise into real results for rental firm, CarTrawler.