Why More Businesses are Making the Switch to SD-WAN in 2023
More and more businesses are switching their networks to SD-WAN as the benefits for hybrid working and cloud computing become clear.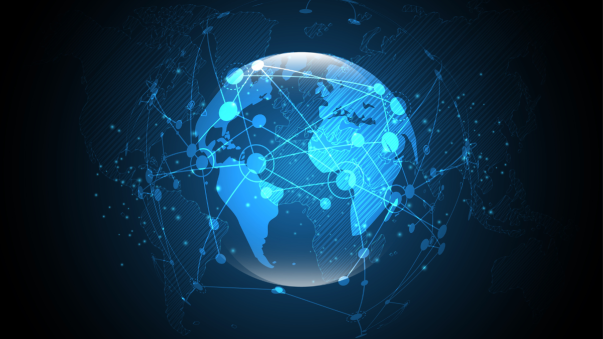 SD-WAN (Software-Defined Wide Area Network) technology has been around since 2013, but it's only as companies have become increasingly reliant on cloud computing and SaaS applications, that more businesses are realising the advantages. The market was valued at US$4bn in 2022 and is estimated to grow by over 65% CAGR from 2023 to 2032. 
The main reasons for increased adoption of SD-WAN have been the continued migration of services to the cloud and the growth of a remote and mobile workforce. These trends have created tailor-made use cases for the technology, as companies look for secure, simple and efficient cloud networks.

What is SD-WAN
SD-WAN is a virtual WAN architecture that connects users in the most efficient way available to a centralised system, no matter where they're based, solving many of the problems associated with traditional WAN design.  
Using SD-WAN, network administrators can remotely deploy and manage applications using a centralised software-defined (SD) management tool, creating a virtualised WAN overlay that securely connects users and their devices. Offices and users can be connected into the network using any data service including DSL, cable, 4/5G, LTE, MPLS (Multiprotocol Label Switching), with improvements in bandwidth, performance and redundancy.  
By delivering enterprise-grade services over large distances, efficiently and securely, the technology is ideal for businesses operating from multiple sites, or those with remote users. SD-WAN brings control, visibility, agility and cost savings over earlier technologies such as MPLS. 
SD-WAN vs MPLS
Most organisations switching to SD-WAN are upgrading from legacy MPLS technology. While MPLS is reliable and providers have enhanced MPLS offerings over the years with new access and security technologies, the customer has always been dependent on the options their chosen provider can supply – and no one supplier can offer everything.   
SD-WAN, on the other hand, is an overlay over internet, so can use any data service, from any provider – companies don't need to source their data service from their SD-WAN provider. 
This choice of connectivity, combined with the centralised, automated deployment and orchestration, gives businesses greater flexibility and resilience. In a sense, SD-WAN offers plug-and-play. With configuration handled from a central hub, a new site, or user, can be up and running literally within minutes.   
Furthermore, in managing connectivity, the technology is highly adaptive and dynamic. It identifies the most efficient way to route traffic, configuring the network based on custom policies, steering traffic onto the optimal network connection, and can even route traffic types and applications based on differing policies, ensuring that business-critical traffic uses the best connection available at any given time.  
Business benefits of SD-WAN
Because SD-WAN offers greater automation and adaptability, it improves network speed and agility, minimises downtime, reduces costs and makes capital expenditure more predictable.  
Cost – Businesses that switch to SD-WAN can substantially reduce Total Cost of Ownership (TCO) though increased speed and the ease with which new sites, applications and network policies can be rolled out. 
Performance – MPLS can prioritise business-critical traffic, but only within the provider core – which was fine when most critical apps were internal. Today, however, many key apps are accessed across the public internet and are often hosted in the cloud. SD-WAN is designed for the unpredictability of public internet. It can adapt to make the best use of whatever connectivity is available at any given time, ensuring the best possible performance for all applications. 
Agility – SD-WAN can dynamically scale to fit any workload with flexible on-demand connectivity between sites, home office and multi-cloud environments, whereas MPLS relies on static, dedicated private line connections.  
Security – Being an encrypted overlay to public internet, SD-WAN is inherently secure, but many companies want to utilise the benefits of local internet breakout. Which is where SASE (Secure Access Service Edge) comes in. This is a relatively new type of architecture that combines the native security abilities of SD-WAN with cloud-centric security to connect and protect users wherever they are. Some of DigitalWell's biggest partners, such as Palo Alto, Cisco and Fortinet and leading in the way in the development of SASE. 
The beauty of SASE is that it reduces complexity while increasing security functionality. The exact same level of security control, visibility and protection can be extended to all users – whether in the office or at home. Gartner expects that by 2025, 65% of SD-WAN users will have incorporated SASE into their networks, up from 10% in 2022.  
Get the best solution for your needs from DigitalWell
Traditional enterprise WANs are unable to meet the needs of modern digital businesses, especially given the rise in SaaS apps and hybrid-cloud usage. Enterprises also want easier management of multiple connection types across their WAN to improve application performance and the end-user experience.  
That's exactly what SD-WAN does, which is why more companies are making the switch to the technology. 
Do your users need secure and reliable access to business applications wherever they are located? As a Microsoft Modern Workspace and Google Workspace official partner, DigitalWell can provide a fully comprehensive SD-WAN solution, ensuring that every aspect of your end-point environment is optimised for security, availability and performance. We can deliver a fully managed solution, if needed, with add-ons such as Internet connectivity, or Voice capabilities from our DW360 product, to deliver maximum benefit for your business needs.  
Get in touch to find out more.