Big News! We're Rebranding
We are excited to announce that Welltel have been rebranded as DigitalWell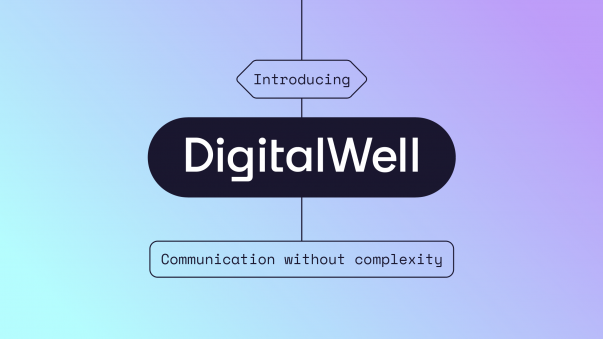 Dublin, 31st May 2022 – Welltel have been rebranded as DigitalWell to mark the exciting evolution of our organisation as a trusted market leader in enterprise communications, delivering secure collaboration and customer experience.
Along with the name change will come some updates to our logo and our brand colours. The rebrand also coincides acquisition of Wren Data and Eleven – contact centre leaders in customer experience.
As with any change, there is always questions. To make sure our name change runs smoothly and seamlessly for employees, customers, vendors, and suppliers, we'd like to take the opportunity to answer some of the most asked rebranding questions.
Company Information
1. What is your new company name?
We are excited to launch our new DigitalWell on the 31st May 2022! This is our business trading name. Welltel (Ireland) Ltd and Welltel (UK) Ltd will still be the legal entity names.
2. Why did we change our name?
Since 2007, our organisation has grown to now have over 230 employees servicing over 3000 clients; with a product and services portfolio that spans throughout the digitisation journey of our clients. This marks the exciting evolution of our organisation as a trusted market leader in enterprise communications, delivering secure collaboration and customer experience throughout Europe and beyond.
Not only does this our new identity as DigitalWell better reflect the breadth of expertise that we hold as an organisation, but it also aligns with our new vision and purpose – for our clients and our team.
Our vision is to build a great organisation that our people are proud to be part of and our clients love to work with. It was developed following significant consultation with our people – it is about making DigitalWell a great organisation that people want to work for, where people feel valued and feel like they belong. And alongside this we really need deliver for our clients and be valued not just for what we do but how we do it and how we relate to them.
Our purpose is to continually innovate so that we can help people communicate; making businesses better and customer's lives easier. At DigitalWell our instinct is always to look for 'what's next' and identify how something can be improved. Although we focus on delivering a consistently great service we never stand still; trying new things and innovating is at the heart of what makes our business valued by clients.
Our focus is to bring the best as one powerful force that offers our clients best-in-class solutions and an excellent experience, from design to delivery right through to vital support and continuous improvement. DigitalWell empowers our clients and their teams to embrace the power of digital to unlock best-in-class customer and employee experiences, driving growth.
3. What is the company's address?
Our HQ is Saint Joan's Industrial Estate, Turnpike Rd, Ballymount, Dublin, D22 NP49. Please revert here for a listing of our other office locations.
4. When will Welltel officially change to DigitalWell?
We are excited to launch DigitalWell on the 31st May 2022.
5. Is there anything I need to do as a result of this change?
Aside from updating your records to reflect our name change, no other action is required. All invoices, purchase orders and other transactional communications from us will remind you to make note of our new company name.
6. Can I still connect with you on social media?
Yes. We'll be updating our social media channels to reflect our new name. Look out for notifications on the channels below.
YouTube
LinkedIn
Twitter
Facebook
7. Will this impact your product and service offerings?
No. We will continue to provide a wide range of assessments, products, services and support. Over time, we will be rebranding them to include our new company logo.
8. Will this rebrand change day-to-day business transactions?
Our rebrand will not change the way we do business with you. Our Customer Support and Sales teams will be happy to assist you with any questions you may have.
Customer, Vendor, Supplier or Partner Information
1. Do you need to update existing NDA or PO?
No, your current NDA and PO are still valid and legally binding. On your next project a new NDA will be signed using the name DigitalWell but all current NDA's will still be honoured.
2. Has my point of contact changed?
No. You will continue to be supported by the same contacts. Our employees will have new email addresses so you should update your records to reflect this and add our new domains @digitwell.com. Don't worry if you send something to one of our old email addresses, we will still receive it.
3. I have a contract with you, is it still valid?
Yes. All contracts and data processing agreements are still valid. Contracts will be updated with our new name as they come up for renewal.
4. Will the order I placed before the rebrand still be fulfilled?
Yes. There will be no disruption to service as a result of our rebrand. You should receive any orders you have placed in the usual timeframe but do get in touch with your Account Manager if you have any order-related questions.
5. My company is in midst of project, will it be impacted?
Absolutely not. Whether you are a customer, supplier, vendor or partner, there will be no change to our services or team and no disruption to your projects as a result of this rebrand.
6. How is my data impacted?
For a full understanding of your data privacy rights under the rebrand of DigitalWell, please click here.
Financial Information
1. Will the bank's financial information change?
No. Bank details will remain the same. If you are a current customer, you can contact your DigitalWell account manager to raise concerns you may have.
2. Can we still use the Welltel bank account details?
Yes, our bank details will remain the same.
3. Have your payment details changed?
Our name has changed but payment details remain the same. We have sent communications to accounts department.
Can't find your answer? Feel free to contact us at info@digitalwell.com