DigitalWell named as one of Ireland's Best Managed Companies 2023
Company receives the award for the third consecutive year.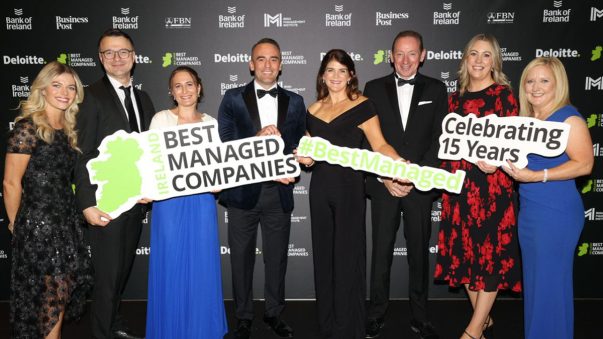 Dublin, Ireland, 15th September 2023 – DigitalWell has been named as one of Ireland's Best Managed Companies. The awards programme is led by Deloitte Ireland, in association with Bank of Ireland. The company, which demonstrated superior business performance for the third consecutive year, was recognised at an awards ceremony on Thursday, 14 September.
This year at the 15th annual awards ceremony, Deloitte recognised 130 indigenous companies representing 24 of the 32 counties across the island of Ireland.
The network of companies has a combined turnover of €17 billion and €3 billion of exports sales, providing employment for over 53,000 people across Ireland across a range of sectors – from manufacturing and tech to construction and food and beverage. A detailed judging process precedes the recognition, evaluating the entire management team and business strategy. The judges look beyond financial performance at areas such as a company's environmental, social and governance standards, strategic planning and talent strategy, when awarding Ireland's top privately owned businesses.
Commenting on the award, Ross Murray, CEO, DigitalWell said: "I'm delighted that DigitalWell has once again secured  Ireland's Best Managed Company Award for the third year in a row. This esteemed recognition underscores our unwavering commitment to excellence and innovation in the digital landscape. This award serves as a powerful motivator, inspiring us to reach even greater heights as we continue our mission to drive innovation and make a positive impact.
The dedication and hard work of our entire team, alongside the trust of our clients and partners, have made this achievement possible. It reaffirms our strategic vision and our ability to consistently deliver outstanding results in an ever-evolving business environment.
As we celebrate this success, our primary focus remains on empowering businesses with digital solutions and sustainable practices. We extend our heartfelt thanks to our employees, clients, partners, and shareholders for their pivotal roles in our journey".
Brian Murphy, Lead Partner for Ireland's Best Managed Companies Awards Programme at Deloitte Ireland said: "This year we're celebrating 15 years of the BMC programme and the incredible companies that have qualified. Even though this year's cohort faced into another challenging period, over the past 15 years we've seen how indigenous Irish businesses find opportunities in change. Strengthening governance and recognising the value of specialist expert advice on critical areas such as ESG were key discussion points in the coaching sessions. We also saw companies increasingly focused on innovation driving internationalisation. Despite the uncertainties of the past few years, the confidence of Irish businesses is clear as more and more are scaling their market reach internationally".
The eight newly qualified companies are: APC Ltd (Dublin), Codex (Dublin), JJ Rhatigan & Company (Galway), Kyte Powertech (Cavan), Lowe Corporation (Antrim), Mail Metrics (Dublin), Production Equipment Europe (Galway), and Topflight Travel Group (Dublin).
There were also 112 companies that requalified as a Best Managed Company, five companies achieved Gold Standard, and five companies were awarded Platinum Standard.
Nikki Canavan, Senior Director, Head of Origination & Sustainability, Corporate Banking Ireland, and judging panel member said: "Over the last number of years the companies in the Best Managed Companies network have shown huge strength in the face of disruption and uncertainty. This year in particular – a year that tested Irish businesses like never before – the judges noted the commitment, bravery, resilience and tenacity of the applicant companies."
The members of this year's judging panel were: Frank Ryan (Chair of Judging Panel) and current Chairman of the Board of IDA Ireland; Nikki Canavan, Senior Director at Bank of Ireland Corporate Banking; Feargal Mooney, Non- Executive Director and former CEO of Hostelworld Group; Sarah Murphy, CEO, Business Post; Colm Foster, Director of Executive Education at the Irish Management Institute; Ellvena Graham OBE, Chairman and Non-Executive Director, Ellvena is Chair of the Belfast Waterfront, ICC & Ulster Hall, Chairman of the Economic Advisory Group (EAG) in Northern Ireland, member of Senate & Senior Independent Governor of Queen's University, Non Executive Director Dale Farm, and Chairman Catalyst; Lionel Alexander, Chairman Intact Software, Board Member Fine Grain Property, Board Member at St. James's Hospital Dublin and Chairman Advanced Manufacturing Centre Ireland.