DigitalWell Awarded "Best Technical Partner 2023" by Bitdefender
Security is at the heart of everything we do.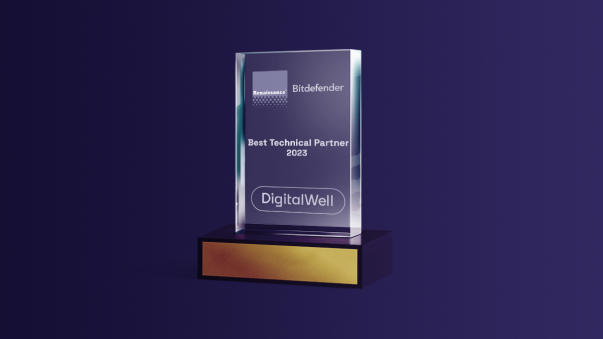 Dublin, Ireland, 17th November 2023 – DigitalWell is proud to be named "Best Irish Technical Partner 2023" by cybersecurity leader, Bitdefender. In an awards event held at Mondello Park, the firm was recognised for demonstrating excellence in technical proficiency and user experience.
Pranav Paraikh, Business Development Manager from Bitdefender said:
"Bitdefender proudly recognises DigitalWell as the "Irish MSP: Best Technical Partner 2023″ for their outstanding technical prowess, unwavering commitment to cybersecurity excellence, and a shared vision for a digitally secure future. DigitalWell's expertise has consistently exceeded expectations, making them the natural choice for Bitdefender. Together, we forge a formidable alliance, dedicated to advancing the frontier of cybersecurity, safeguarding businesses, and ensuring the resilience of digital landscapes. This award reflects our mutual pursuit of excellence and the confidence we place in DigitalWell as a trusted partner in the ever-evolving realm of cybersecurity."
Chris Peregrine, Head of Product Management at DigitalWell explained that many of DigitalWell's customers opt for Bitdefender for their security needs as it is often better suited to the needs of smaller companies with ten to 50 users when it comes to threat prevention, detection and response. He added:
"While Bitdefender may have originally made its name as a domestic antivirus vendor, it has evolved over the years into a provider of truly enterprise-grade endpoint protection solutions, recognised by analysts like Gartner and Forrester. Not only does it offer robust and efficient protection for corporate endpoints, but it is straightforward to manage and deploy, making it ideal for a Managed Service Provider like DigitalWell."
DigitalWell looks forward to many more years of collaboration with Bitdefender, fortifying our commitment to safeguarding our clients' businesses with cutting-edge cybersecurity solutions.
At DigitalWell, security is at the core of everything we do, get in touch to find out more about how our solutions can safeguard your business.
About Bitdefender
Bitdefender is a cybersecurity leader delivering best-in-class threat prevention, detection, and response solutions worldwide. Guardian over millions of consumer, business, and government environments, Bitdefender is the industry's trusted expert for eliminating threats, protecting privacy and data, and enabling cyber resiliency. With deep investments in research and development, Bitdefender Labs discovers 400 new threats each minute and validates 30 billion threat queries daily. The company has pioneered breakthrough innovations in anti-malware, IoT security, behavioural analytics, and artificial intelligence and its technology is licensed by more than 150 of the world's most recognised technology brands. Founded in 2001, Bitdefender has customers in 170 countries with offices around the world.
For more information, visit Bitdefender.