6 Emerging Connectivity Trends in Business Communications
As we come to the end of 2023, we look at what at some growing connectivity trends that are set to consolidate during 2024.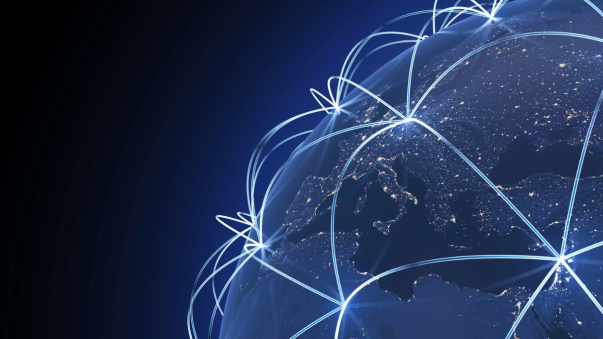 Connectivity is at the heart of modern business communications. With the rise of hybrid work, it's more important than ever for businesses to seamlessly connect and collaborate with employees, customers and business partners. Emerging from the pandemic, digitisation has become a priority for organisations everywhere with new technologies such as artificial intelligence (AI) continuing to mature and contribute to advances in business communications.
Companies aren't just looking for faster speeds and lower latency, they're looking for enhanced security offerings to protect their businesses and new connectivity applications to help them be more efficient within their operations and more competitive in their marketplace.
Here, we take a look at connectivity trends currently driving business decision-making.
1. Continued growth in cloud-based connectivity
Cloud connectivity has revolutionised the way businesses collaborate. And that revolution is still gathering pace. More businesses are moving to the cloud – spending on cloud computing infrastructure is forecast to hit $1 trillion in 2024. From enhanced security techniques to tackle a rising tide of cyber threats, to the integration of AI, cloud-based applications are still evolving to meet the connectivity needs of businesses.
2. Embracing unified communications (UC)
More businesses are turning to Unified Communications as a Service (UCaaS) to streamline communications, introduce efficiencies and improve productivity. By bringing together voice, video, messaging and collaboration tools in a single unified communications platform accessible from any device, anywhere, businesses are achieving seamless connectivity, real-time collaboration across a distributed workforce while reducing IT and infrastructure costs.
3. SD-WAN migration
As during the pandemic, cloud applications and services are making fully remote and hybrid working practices happen. More businesses are moving to SD-WAN networks to give employees more secure, enhanced connectivity, making collaboration more effective and driving workforce engagement. Crucially, SD-WAN is able to prioritise bandwidth for business-critical applications, reducing downtime and boosting productivity.
4. AI deployed to optimise connectivity
AI applications continue to evolve. Chatbots and virtual assistants are becoming ever more sophisticated, automating customer support and personalising communication experiences. AI is also already being used to optimise traffic path selection in SD-WAN, provide better policy definitions and monitor for threats. In voice and data networks, by analysing historical events and patterns, AI will be increasingly deployed to predict failures and proactively address them.
5. Increased investment in cybersecurity
Security has become a key focus for all types of organisations. In 2024, we expect businesses in every sector to invest in protecting business connectivity with the latest security measures. More and more businesses will move to managed SD-WAN solutions not just for the efficiencies already mentioned, but for enhanced security measures, such as end-to-end encryption, secure APIs and robust end controls. SASE (Secure Access Service Edge) adds further layers of security to SD-WAN combining the software-driven network optimisation of SD-WAN with network advanced security functions.
6. Customised connectivity solutions
When it comes to connectivity, no one solution fits all. There are many factors to take into account to gain the best all-round connectivity infrastructure for your organisation. From reliable Internet access and secure networking to optimal cloud services, every business has different needs. For some, compliance or data privacy might be a priority while others may be focussed on optimising their network for a distributed workforce or a multi-site operation.
That's why it's important to seek out a provider that can offer the right expertise, advice and consultancy you need to secure the best all-in-one connectivity solution for the needs of your organisation today and in the future.
Talk to an expert at DigitalWell about your needs and futureproof the connectivity of your business.