The Rise of Remote Work and its Impact on Business Communications
Remote work is here to stay. And so is the technology that is making it a success for all types of organisations.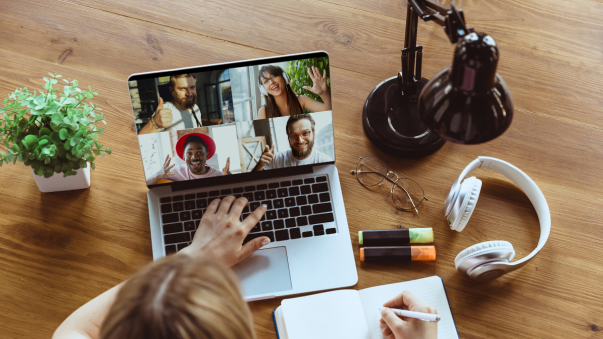 While the pandemic was undoubtedly a catalyst for the rapid migration to remote work, there was a shift already happening for a number of reasons. Firstly, a surging need to fill skills shortages, particularly in the tech sector, prompted companies to increasingly recruit remote workers. Secondly, with the rising cost of office space and facilities being two of the top expenses for any organisation, implementing WFH (work from home) policies meant the costs of physical premises could be cut by 10% to 20%. At the same time, reputable studies were emerging that showed that hybrid workers were more satisfied and more productive than their office-based counterparts.
However, for numerous individuals and organisations, the COVID-19 pandemic served as the precipice, offering a tangible opportunity for companies to adopt a remote work methodology, experiment with it and assess its advantages. In fact, for some hard-pressed businesses, it was a lifeline – the only way to minimise downtime, and survive, during lockdowns and social distancing.
Businesses had to adopt new ways of working that afforded flexibility, provided seamless communication tools and were robust. Fortunately, emerging technologies were paving the way for the expansion of remote and flexible work arrangements.
The technology redefining remote work
Technology has made remote working viable by playing a role in three key areas. These tools work together to facilitate businesses to migrate to and operate in a remote work environment with minimal disruption to operations, while retaining access to all the services, apps and data normally found in a traditional office environment:
Secure Internet and networking – The most obvious priority for remote work is reliable and secure Internet access. For today's businesses, security is a massive concern whether remote or in-office, especially considering the increase in cyberattacks and the potential costs of a data breach. This has led many companies to switch to SD-WAN, which is not only secure but highly flexible. SD-WAN solves many of the problems of traditional WAN services, allowing users to connect securely using any data service. It also prioritises streams overs non-critical traffic during times of congestion, so users don't suffer session loss due to packet loss.
Online data, services and contingency planning – Once Internet access is secure, employees need remote access to data and services. Migrating data and services to the cloud is the not only the easiest way to digitally transform a business, it's also cost-effective, secure and improves performance. But every business is different – an off-the-peg solution won't fit all – something we understand at DigitalWell. It's crucially important to take the time to create a flexible and scalable solution that meets the ongoing needs of your business when it comes to security, compliance, back-up and disaster recovery.
Collaboration tools – It's no surprise that Zoom was one of the fastest growing apps during the pandemic; meeting participants increased by 2900%. A similar story happened at Microsoft. At the beginning of the pandemic, MS Teams had 32 million active users. By April 2021, that figure was 145 million. Unified comms and collaborative tools are the driving force behind remote work and we continue to see their rapid evolvement to meet the changing needs of the workforce.
These tools are typically divided into three categories: audio-visual, text-based, and task management. While the audio-visual category consists of video-conferencing tools enabling face-to-face interactions and meetings, messaging tools have replaced email, text messaging and instant chat under a single unified offering. Finally, task management utilities such as JIRA, Trello and Monday are helping teams collaborate on workloads and tasks together.
5 steps to creating a secure and positive remote work culture
While many saw the shift to remote working as an opportunity, it posed challenges. The main one was how to service a distributed workforce effectively to cultivate a cohesive culture. Whilst the technology was available, there was a need to adapt organisational culture and develop policies that promoted positive collaboration and productivity, enriching online person-to-person interactions.
Businesses that excel in this regard lead from the top down, fostering a nurturing and collaborative online environment and community.
Define your vision – Start by defining your purpose and values, aligning remote team members around common goals. This can create a sense of belonging and commitment. The building blocks of that culture begins at onboarding when new employees are trained in app access, security awareness, organisational working policies, workload and expectations.
Communicate and collaborate – Effective communication is especially important for remote teams. Establish the ways in which your teams will communicate with clear guidelines on expectations. Regular meetups and transparent communication are essential components in a culture that bonds employees at every level and enhances trust. Provide teams with the resources and opportunities to work together and share ideas.
Provide feedback and support – Senior staff should provide constant feedback and let employees know that there is support and welcome employees to ask for assistance when they need it.
Support well-being – Not everyone wants to work from home all of the time. For some, working remotely can mean isolation and stress. Create a culture of care and compassion, addressing the needs of hybrid work with team members individually.
Don't neglect security – Remote work, especially WFM brings with it challenges around IT security. While technology, such as a managed IT solution can solve many of the security issues associated with remote work, businesses must create a culture that has security awareness at its core. Establish strong and clear security protocols for remote workers and provide regular updated training to team members in mitigating cyber risks.
The evolution of remote work to hybrid work
Overall, the evolution of remote working has reshaped the landscape of business communications, emphasising the importance of effective virtual communication strategies and tools while requiring businesses to adapt to new challenges and opportunities. Successful remote work arrangements require a balance between flexibility and structure, as well as a commitment to fostering a positive remote work culture.
Workplace habits will continue to evolve and the technology facilitating that will adapt too to reflect the changing needs of the business landscape and its workforce.
At DigitalWell, we will do the same – constantly updating our solutions to meet the needs of businesses in every sector. Get in touch to discover how our solutions can help your organisation thrive in a new era of hybrid work. For more insights on the technology driving remote work, see our report on the Future of Communications.